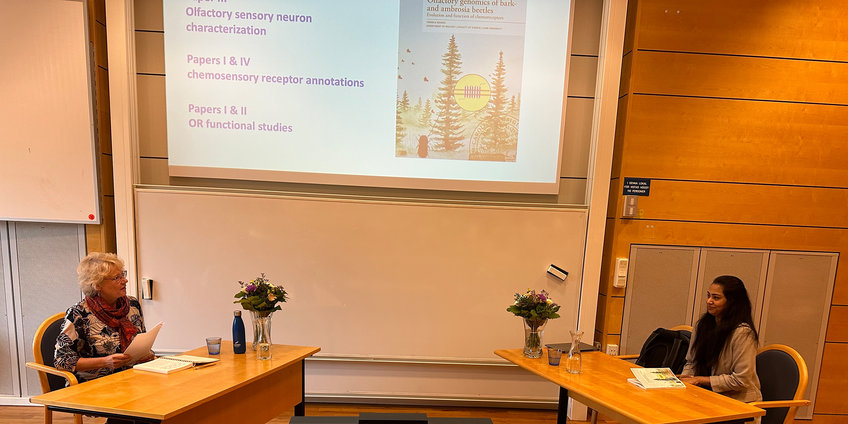 News & Events
Workshop: Introduction to Phylogenomics, May 22-25, 2022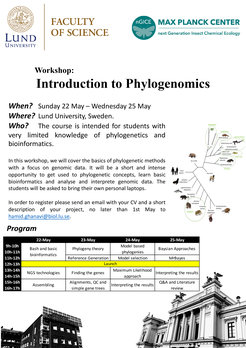 In this workshop at Lund University, Sweden, we will cover the basics of phylogenetic methods with a focus on genomic data.
It will be a short and intense opportunity to get used to phylogenetic concepts, learn basic bioinformatics and analyse and interprete genomic data.
The students will be asked to bring their own personal laptops. The course is intended for students with very limited knowledge of phylogenetics and bioinformatics.
In order to register please send an email with your CV and a short description of your project, no later than 1st May to hamid.ghanavi@biol.lu.se.

17th European Symposium for Insect Taste and Olfaction, May 15-20, 2022
The 17th European Symposium for Insect Taste and Olfaction (ESITO) will be held from May 15th until May 20th at Bäckaskog Castle in Sweden. We will provide a rich program of lectures and posters - and an enthusiastic and happy crowd of insect chemical ecologists and sensory biologists– to make this an unforgettable week of cutting-edge science and joyful camaraderie in the care of our wonderful hosts at Bäckaskog Castle.

Contact: contact@esito-2022.se

Chemical Ecology for Sustainable Insect Pest Control, SLU, January 17 - March 23, 2022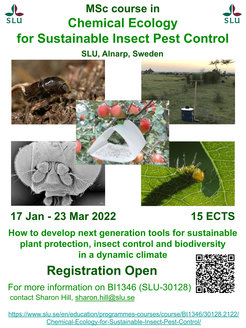 The Department of Plant Protection Biology at SLU is running an insect chemical ecology course for Master's students called "Chemical Ecology for Sustainable Insect Pest Control" from January 17 - March 23, 2022, as a hybrid (online and in-person) course. The main objective of the course is to give the students a broad knowledge of chemical ecology. The focus will be on the impact of chemical stimuli on insect behaviour, function of smell and taste in insects, evolutionary aspects, behaviorally active chemicals, chemical analyses and the use of behaviorally active compounds in plant protection. More information is available here.
1st Internal nGICE Meeting, Bäckaskog Castle, Sweden, September 2-4, 2021
In September 2021, despite delays due to the COVID-19 pandemic, all 18 doctoral and postdoctoral nGICE researchers have arrived at their respective institutes.
The main purpose of this first meeting of all involved was to meet in person and get to know each other, thereby facilitating joint supervision and exchange of doctoral and postdoctoral researchers.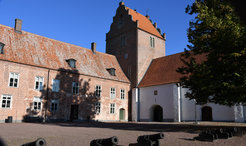 All doctoral and postdoctoral projects were be presented by the respective researchers.
All doctoral and postdoctoral co-workers got 30 minutes each with their whole group of supervisors to plan the coming year, especially decide if, when and in what form exchange is desirable and to schedule Zoom supervisor meetings.
Group theme discussions was used to prioritise among the activities / courses that have been postponed on account of the pandemic. Viable Zoom alternatives were also discussed in case new travel restrictions are introduced during the autumn.